State certified DOT inspections
DOT inspections may only be performed by a qualified mechanic or a state police officer. Luckily for you, we are state certified to perform DOT inspections at Glenn's Towing & Repair. DOT inspections are used to discover unsafe conditions before they cause accidents or crashes, find mechanical problems before they lead to costly breakdowns, and to help you avoid being placed out of service during a roadside DOT inspection or being subject to infractions and fines.
Your DOT inspection will include:
Brakes
Exhaust system
Frame
Fuel system
Turn signals
Brake, tail, and headlamps
Safe loading
Steering mechanism
Suspension
Tires
Seatbelts
Trailer bodies
Wheels and rim
Windshield wipers
Hazmat requirements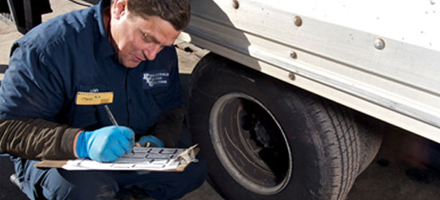 We're more than just a towing company...
Glenn's Towing & Repair has been in business since 1991. That's over 20 years of valuable experience, workmanship, and dedication to keeping your vehicles running smoothly and safely. We'll perform your DOT inspection for a reasonable rate as well as make any repairs that you might need on your truck. Looking for recovery services or heavy equipment hauling? Turn to our experts!